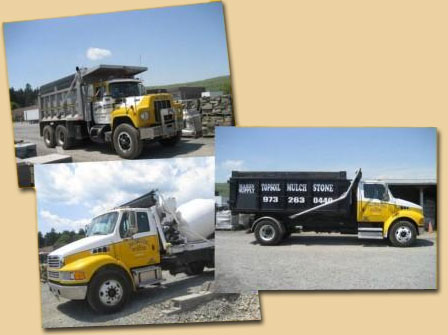 The delivery trucks….
the SINGLE AXLE can hold up to 20 yards mulch and 7 yards of soil,
TANDEM holds 25 yards mulch and 20 yards soil,
and TRACTOR TRAILER holds up to 80 yards mulch.
Delivery
Our Delivery Service is dedicated to quality and convenience.
With a simple phone call, you can have a top quality landscaping product delivered to your property where and when you want it.
Our delivery truck drivers pride themselves on providing prompt, on-time delivery, and this dedication helps our customers receive the service they deserve.
We have all your orders covered. Small deliveries, large deliveries, and anything in between, we have a truck that will fit on your property.
To schedule your delivery, please call (973) 263-0440.